I was born in 1959 in Berwyn, Illinois.
Elementary school, 2nd grade, at St. Eulalia in Maywood, IL.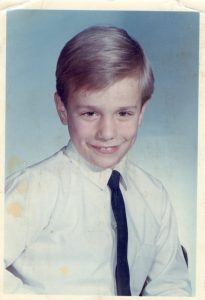 Elementary school, 2nd grade, at St. Eulalia in Maywood, IL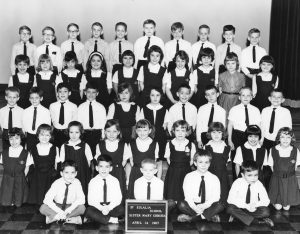 Elementary school, 4th grade, at St. Eulalia in Maywood, IL.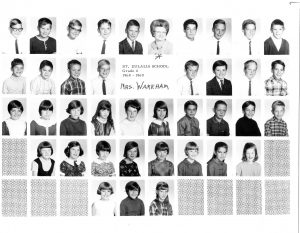 1972
Crystal Lake, Illinois
Moved to Crystal Lake, IL and attended Northshore Junior High School. We lived in a summer home near the lake with two of us sleeping on the back porch and two on the front porch (both enclosed). We had beach access in the summer.
Grandpa Fisher died on Dec 22nd at the age of 71. I spent a lot of time with Grandpa Fisher all of my life and he showed me many things. He was the first death in the family that I experienced, and I felt the loss.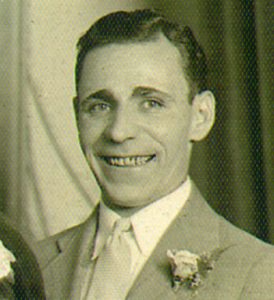 We moved to Huntley, IL and I attended Huntley High School as a freshman. I felt lost at first but quickly made friends. Some liked to fish, so we spent time at the lake in Colleen's Cote and caught a lot of fish (largemouth bass, crappie, and blue gills).
I was on the yearbook staff and had access to cameras, a dark room, and an enlarger, so I took a few of my own photos.
Graduated from Huntley High School.
Moved to Port Angeles, WA in May to live with Al & Jan Hare and work for them at Northwest Technical Industries, Sequim, WA. July fishing trip to Ontario Canada with Dad, Chris, and Jim Jr.
Dave, Margaret, and Bernadette sending us off in Marengo, IL.
Grandma Zajicek died Apr 2 at the age of 85. I was graduating in a couple of months and did not fly back to attend her funeral, which I have regrets about.
I graduated from The University of Washington with a BSMetE degree. Shortly after graduating, I decided to go to graduate school and told Al Hare I was resigning from Northwest Technical Industries. He was not happy about that.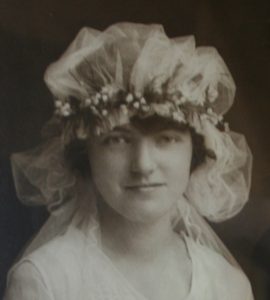 Liz presents a poster paper at ISHM National Dallas, TX.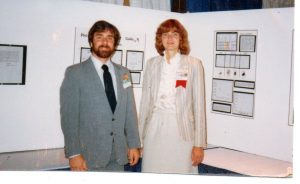 Liz & Ed bought our first house in 1986, 14129 Cascadian Way, Everett, WA. We sold it in 1995. This is a picture of the house a while after we sold.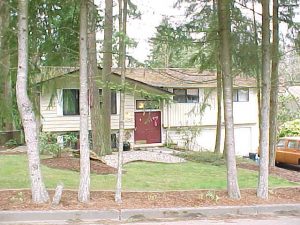 On May 24th 1986 we had a small wedding. We drove from Everett, WA to a small roadside chapel in Port Angeles, WA for the ceremony. We drove with Pat (mom) & Jim (dad) Hare. both ~50 years old, to see their 2nd born get married. Dietrich and Rosemarie Riemer, ages 56 & 58, met us for breakfast in Sequim. After breakfast we all continued to Port Angeles for the wedding.
The wedding was the "deluxe" version, for an extra ten dollars they lit the candles and provided a cassette tape of our vows. We headed off to our honeymoon with parents in tow. We spent our honeymoon evening in Manresa Castle in Port Townshend, WA. Our room was directly between both parent's rooms.
The following morning, Dietrich and Rosemarie headed back to Auburn, WA and the remaining four of us headed off to Sol Duc Hot Springs to stay in cabins and soak in the hot springs. On the way to Sol Duc we stopped for snacks at a grocery store and instead left with two full carts of food and alcohol, which became our new tradition on future vacations.
After Sol Duc, we went to the North Pacific coast to Kalaloch Lodge in Quinnault, WA to stay in cabins on the beach. Mom wrote a poem …
BEACH AT KALALOCK, WASHINGTON
Slate gray sand soaked by the sea, lying awash with shells, rocks, and debris. The shoreline streaked with silent bleached bones of trees long since wrenched from their homes.
Gulls glide gently balanced on a breeze, then dive of a sudden on a gift from the sea. Lacy bits of foam decorate the beach below, while the exodus of waves make its boarders grow.
Crashing waves meet the rocks standing guard off shore. Their smashing dance of foam and spray lasts for evermore. Rows of white-capped thunder assaulting the shoreline become a gentle rush of foam resplendent there in time.
A sea skate whose life was lost at sea, reposes there as gulls loudly pick and fight over their evening's fare. The skate, its huge skull now picked free of flesh, looks up through empty sockets at its dinner guests.
Through sunlight and moonshine, never ending is its roar, the song of the Pacific at its meeting with the shore. Hungry sea with white foam teeth ever snatching at the land, its victims lie there quietly, slowly blanching in the sand.
Patricia A. Hare © 6/88
… Most people are shocked that we would spend our honeymoon with our parents, but we enjoyed and will remember the experience fondly and would not have done it any other way.
Eric was born on February 27th.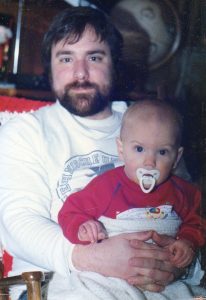 Stephanie was born on June 11th.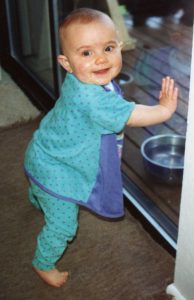 1996
Snohomish, Washington
Grandma Fisher died Jan 3rd at the age of 92. She told me for the previous 17 years each time I saw her that this would probably be the last time. Grandma was a character and I loved to visit with her.
1997
Snohomish, Washington
Founded SEM Lab, Inc. in Nov.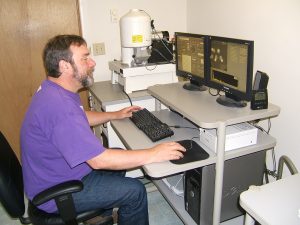 1998
Snohomish, Washington
Ed leaves Intermec to work fulltime at SEM Lab, Inc.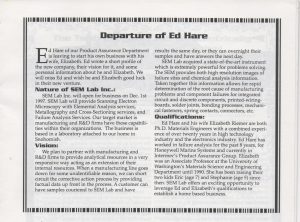 2006
Snohomish, Washington
Visited Germany with Dietrich in March
2012
Snohomish, Washington
Pat Hare visited. Jim Hare visited.
2013
Snohomish, Washington
Dr. Greg Hare came to visit Mar. 23rd & 24th, which is usually an annual event during his OD meeting at UW. Visited Eugene OR with Stephanie & Tyler where they were shopping for universites (link). Stephanie graduated from UW with a ChemE degree. Pat Hare visited in July. Liz & Ed & dogs went on an epic RV journey in August. Liz & Ed & dogs visited Carol & Kay in Westport WA in October. Liz & Ed attended the Snohomish Brew Fest Oct 16th with neighbors Frank & Rosita Forster and friends Mike & Karen McClelland.